Hampstead
From the designers of Seaside, Rosemary Beach, and Alys Beach, Hampstead is a sustainable community combining homes, restaurants, retail, offices, schools, a YMCA, and much more. Our neighborhood is walkable, efficient, and connected. Our homes vary from town homes and condominiums to courtyard plans and estate homes. Our residents enjoy an unrivaled quality of life in a setting that is unique and fun. With the best selection of new homes for sale in Montgomery, AL come visit and find out why Hampstead is growing faster than any other Montgomery community!
Makers Hampstead

These Alabama makers made a community

By Rick Harmon
Alabama Tourism Department

Alabama makers create almost everything, from T-shirts, cheeses and candles to music, soaps and beer. Anna Lowder and Harvi Sahota created a new kind of community. The result is East Montgomery's Hampstead, the first U.S. community to be designed and built under the SmartCode, an innovative zoning code that encourages diverse, mixed-use neighborhoods, and the first in Alabama to receive the Southern Living Inspired Community designation.

"I like the idea of Hampstead being viewed from a maker's perspective," Lowder said. "Like other makers' products, it was created with craftsmanship and planning and is about building a product that is unique and that you are proud of. The only difference is that the product we are building is a community."

Like many makers' products, Hampstead incorporated history and tradition in creating something new. And it was a product that was years in the making.

Lowder and Sahota had been living in London. When Sahota returned with Lowder to her hometown of Montgomery, he became fascinated by the city's history and the impact it had had on both the civil rights movement and on the Civil War.

But the couple was also struck by something else — how much the city's urban core had deteriorated. Montgomery's downtown was dying.

The more Sahota thought about the problem, the more fascinated he became. In 2004, he devised possible solutions using principles of "New Urbanism" for his thesis at The Royal College of Art in London.

"Part of that was looking at all the different types of city planning and zoning that had been used through the years and then incorporating the parts that had worked well into one plan," Sahota said.

A major element of the plan was creating a flexibility to replace the rigid separate zoning of business spaces and living spaces.

The pair had put so much time and thought into these principles that when an opportunity presented itself, they couldn't resist putting them to the test, Lowder said.

They created A&P Lofts in the Cloverdale section of Montgomery.

"The A&P Lofts, and the chance to combine lofts and businesses, was a test — one we very much enjoyed," Sahota said. It was also a major event in Montgomery's successful city center redevelopment.

Lowder said when the lofts were built, they were one of the first mixed-use buildings erected in Montgomery in decades.

Montgomery city officials were quick to embrace the principles of New Urbanism within the project. "I think it also helped show other developers that there was a market for it," Lowder said.

Sahota and Lowder brought some of the leaders of the New Urbanist movement to Alabama, and Montgomery was incredibly receptive, Sahota said. Soon, buildings that were a combination of businesses and loft apartments were popping up all over downtown.

"Looking back on the progression of downtown over the next decade, the results were remarkable," Lowder said.

When the property Hampstead now occupies became available, the pair quickly made the decision to expand those principles into an entire community.

"It just seemed very natural to us both because of the reception our other projects had received and because it was partially based on other communities like Seaside and Rosemary Beach that many people in Alabama were already familiar with," Lowder said.

They created a combination of modern homes and businesses and a traditional small-town Southern community atmosphere that used everything from a local farm and a town center, all within easy walking distance.

They expected it to be popular with all age groups, particularly young adults.

What they didn't expect when they opened it in 2008 was the recession of 2008. Still, the flexibility of the New Urban building codes helped them survive one of the worst financial times since the depression.

"It allowed us to adapt until the economy recovered," Lowder said. "The codes don't segregate by price point, so you can build starter homes in the same block as other homes. This gives us the flexibility to do what is appropriate for the time, which in this case was leaning more toward starter homes."

There is also a lot of flexibility in the types of homes in Hampstead. Sahota says he currently has plans for more than 80 different homes that can be built there, and that number continues to grow.

But urban planning isn't just about the "what." It's also about the "when."

"You aren't planning for now or for a year from now, but for 20 or 30 years from now," Sahota said.

Hampstead is a continually changing community — different from most communities because each new change is planned.

The changes allow it to constantly keep up with the times and to add new selling points. For instance, the popular Tipping Point, a neighborhood bar and meeting place that opened in 2010, attracted more activity to the area, often from outside Hampstead.

"It allows people to experience the lifestyle here without visiting a sales center," Lowder said. "It also represents how approachable and comfortable the lifestyle is here."

Other major selling points have been: the farm-to-table movement, with Hampstead helping to start another farm in downtown Montgomery; building up both sides of the streets with sidewalks for walkability; the lake that was built two years ago; rentals that enable some who may not want to buy a house yet to still live at Hampstead; and a Montessori school, educating children ages 18 months to 12 years.

"One of those images that represents the type of community we want is seeing children from the school at the farm for their science classes," Lowder said.

These additions have allowed Hampstead to hone in on two major markets — young people wanting a more exciting neighborhood that also has a community feel and people moving to the area from outside Alabama.

Lowder and Sahota say the next step is continuing to make Hampstead a destination. That means adding more retail (shops that are both interesting and appropriate), more local businesses, more restaurants and at some point even dry cleaners and dentists and other services that will allow people to stay at Hampstead while getting things done.

Between naming Hampstead Alabama's first Southern Living Inspired Community and working through a unique partnership to design and build a Southern Living-inspired home in the area, Southern Living magazine has helped focus attention on the community.

"On a regional level, Southern Living helped put Hampstead on the map," Lowder said.

But the community has been garnering attention from across the globe.

"We have visitors from all over the world, from Europe to the Philippines to Australia, to see what we've done at Hampstead," Lowder said.

While other communities, such as Seaside and Rosemary Beach, have been built using the same principles of New Urbanism, Sahota said in some ways Hampstead is unique not just for Alabama but for the region.

"This is not a resort community, but a place where people live all the time, and it has price points much more approachable for most buyers, certainly far, far more approachable than in other areas," he said.

Lowder added that it's obvious how different Hampstead is from other developments.

"On any given weekend, we have a large number of non-residents come to use this as a backdrop for their events and photos," she said. "To me that indicates how special, how different this is. I don't think you would see many people coming to take their wedding pictures at a traditional subdivision."

Hampstead
Visit: From I-85: Take exit 9 "Taylor Road" from I-85. Drive South on Taylor Road (also known as AL-271) toward US-231. Continue past Eastchase Shopping Center and the Vaughn Road Intersection. Drive 1.5 miles past Vaughn Road on Taylor. The main entrance to Hampstead will appear on the left side of Taylor Road. Turn into Hampstead between the Town Center Buildings.
For more information visit: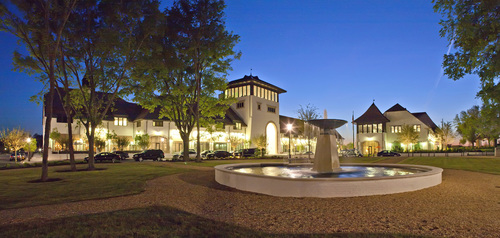 Video provided by Hampstead
Unless otherwise stated, photo provided by Hampstead