Big Bob Gibson's Bar-B-Q
Restaurant
For four generations, Big Bob Gibson has been cooking up famous mouthwatering slow-cooked meats and nationally award-winning sauces. Deemed by barbecue connoisseurs and readers of the Birmingham News as the "Best Barbecue Restaurant in Alabama," Gibson's offers a championship red sauce, flavorful Alabama Red, Fiery Habanero Red and a tangy original white sauce and others that are guaranteed to tantalize the taste buds. The restaurant has a loyal following that includes housewives, factory workers, truck drivers, doctors, lawyers, teachers and others.
For more information visit:
http://www.bigbobgibson.com
Big Bob Gibson's Bar-B-Q
1715 6th Ave. SE
Decatur
,
AL
35601
256-350-6969
Hours of Operation
Open daily, 9:30 a.m.-8:30 p.m.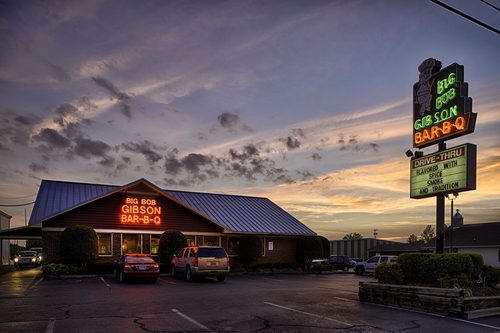 Unless otherwise stated, photo provided by Big Bob Gibson's Bar-B-Q