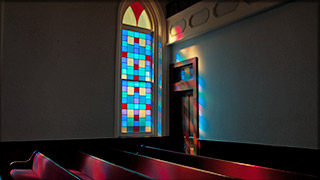 Landmarks & Museums
Midway along the Selma to Montgomery National Historic Trail on U.S. Highway 80 in Hayneville lies the $10 million Lowndes County Interpretive Center. The museum exhibits depict a wide range of events, including the establishment of "Tent City," which housed families dislodged by white landowners in Lowndes County. In downtown Montgomery, the Civil Rights Memorial Center features multiple exhibits, including a Wall of Tolerance that allows visitors to sign a pledge to promote racial justice.
At the Rosa Parks Museum in Montgomery, you can step back in time and see a 1955 Montgomery city bus for yourself, or visit the nearby Dexter Parsonage Museum on the site where Martin Luther King Jr. lived while leading the Montgomery bus boycott. Learn about the movement's foot soldiers at the National Voting Rights Museum Selma or about the secret life of Booker T. Washington at the Tuskegee Human & Civil Rights Multicultural Center.
And don't miss a chance to visit the nation's largest civil rights museum, Birmingham's Civil Rights Institute, which boasts 58,000 square feet of archives, galleries, community meeting rooms and exhibit spaces.
Many civil rights-era sites have been preserved and made open to the public. Birmingham's Civil Rights District is home to Kelly Ingram Park, a site where marchers and activists came together in protest. Nearby is 16th Street Baptist Church, where Ku Klux Klan members killed four young girls in a 1963 bombing.
Walk across Selma's Edmund Pettus Bridge, the site of a 1965 violent confrontation that helped rally national support for the Civil Rights Movement, or visit the airfield where the Tuskegee Airmen, the first African-American military pilots, trained during World War II. In Montgomery, stop by the Dexter Avenue King Memorial Baptist Church, where Martin Luther King Jr. was the pastor from 1954-1960.